Back to all news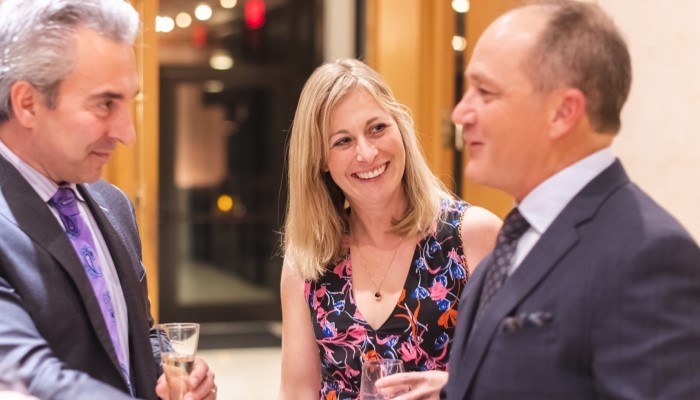 Nov 25, 2019
Colorado Politics Top Story: Q&A with Shannon Kopp - Forging a New Path to Civilian Life
---
Q&A with Shannon Kopp - Forging a New Path to Civilian Life
Dan Njegomir, Colorado Politics Nov 25, 2019
https://www.coloradopolitics.c...
Many in the U.S. military have faced challenges in battle that would be unimaginable in the average American workplace. Yet, one of the greatest challenges veterans will take on, sooner or later, is transitioning out of uniform — and into those same workplaces. It can be, in many ways, as much of a life-changing experience as it was to enter the military in the first place. And the nonprofit COMMIT Foundation in Denver is helping veterans cross that threshold in new, profound and far-reaching ways — distinguishing it from many other efforts serving veterans nationwide. "COMMIT provides a lifelong personal and individualized approach to the whole person, making sure they successfully transition both personally and professionally," the organization's Chief Development Officer Shannon Kopp tells us in today's Q&A. "It's not just about getting a job." Kopp, a veteran in her own right — not of the military, but of fundraising, in both politics and the nonprofit world — also talks about her work for some nationally prominent officeholders over the years. Like the late U.S. senator and 2008 presidential contender John McCain — and the "Governator" himself, Arnold Schwarzenegger.
Colorado Politics: It's a familiar image — the veteran who was a hero in uniform but is overlooked once back in the civilian world and especially on the career path. It's why employers have been exhorted to "hire a vet" for generations. Where does COMMIT Foundation come into the equation? What does it do that other efforts in Colorado and across the country don't or can't do for veterans?
Shannon Kopp: The COMMIT Foundation and its programming is about long-term happiness for our veterans; it's not just about getting a job. COMMIT helps service members and veterans find a path that honors their service, skills, interests and long-term success. We give our program participants the tools to take a tactical pause, to have the confidence to imagine their best personal and professional life. COMMIT then supports that work with wrap-around services such as executive coaching, resume assistance, interview prep, and our online digital platform. These programs help reinvest our veterans into our communities and workforce in purposeful and meaningful ways.
COMMIT's difference, mission and vision is to serve the top 10% of service members transitioning out of the military each year, ensuring they design and live their best personal and professional life, meeting each individual where they are with an individualized approach. Additionally we work to ensure through our corporate education work that the professional world these veterans enter into is poised to recruit, integrate and retain them. Some might ask why investing in the top 10% matters. These men and women are force multipliers in our veteran population. They go on to lead in our companies and our communities. They go on to hire other veterans, run employee resource groups, and change the narrative about our veteran population. With more than 40,000 veteran service organizations in existence, many work in the transition space. Unfortunately, most programs tend to focus on the amount of people they serve rather than the quality of services provided. COMMIT does not tolerate mediocre programming. We do not accept a quantity over quality approach to transition work. We believe that the best approach is one where we build solutions around individuals.
COMMIT does not focus on one branch of service, one military occupational specialty, or a particular rank; we serve all branches of service, all ranks, and all military occupational specialties. The requirement is that you show up committed to doing the work and investing in yourself. There is a sense of entitlement across the veteran population that we want to crush. We know the men and women who serve deserve the best but we also believe they need to put forth the effort to invest in themselves. This is what we screen for in our application process — fire in the belly! COMMIT provides a lifelong personal and individualized approach to the whole person, making sure they successfully transition both personally and professionally. COMMIT has built a team of teams made up of those who are the best in their fields to support and facilitate our workshops, to provide executive coaching, and to advise and mentor our participants through their entire transition journey.
Shannon Kopp Named chief development officer of the COMMIT Foundation in July. Has been a consultant in nonprofit development and government affairs and has provided philanthropic advisory services focused on strategic organizational development, board cultivation and capacity building. Served in senior fundraising roles for presidential hopeful John McCain and former California Gov. Arnold Schwarzenegger. Holds a B.A. from the University of Southern California and a Masters of Science in Organizational Leadership with a specialization in Executive Leadership from Regis University in Denver.
CP: What do you feel COMMIT has accomplished so far in serving veterans?

Kopp: COMMIT has had a deep impact on the veteran service organization space and is poised to make an even greater impact in 2020 and beyond. COMMIT is a thought leader, changing the way veterans, civilians, corporate and philanthropic leaders view transition and support for veterans after their time in uniform. The COMMIT Foundation programs change the lives of individuals who are connected with us and are willing to invest in themselves for transition and the rest of their lives. COMMIT services are free to individual service members; we are authentic and truly meet people where they are. COMMIT has a footprint in the space having built the Stanford Ignite Program for Vets, Dartmouth Tuck's School of Business, Next Step for Veterans and Team USA Athletes. In 2016 COMMIT received an investment from Marc and Laura Andreessen Philanthropies to build strategic initiatives around veterans in Silicon Valley. There is programming at Facebook, Palantir Technologies, Breakline Education and Guggenheim Partners because of our work and our relationships. We have nurtured a powerful ecosystem.
CP: By just about any measure, the American public loves members of the U.S. Armed Forces. If anything, it should be easier for a veteran to transition to a new career than for the population at large, yet that's not necessarily the case. Why do veterans face so many challenges after life in the service?
Kopp: What we have seen is that most veterans face gaps in three things or some combination of them. There is a gap in information; they don't understand how their skills transfer. There is a gap in confidence, no matter what they did in uniform. And, there are huge gaps in imagination. The military doesn't foster creativity. These men and women aren't taking the blinders off to realize the host of possibilities. There are other problems we could discuss as well such as prioritizing paycheck over lifestyle or problems with certifications and the transfer of credentials. We also have many problems on the corporate side. With 99% of the country not serving in the military, there is a lack of understanding on the civilian and employer side too. Finally, and where COMMIT works to focus is that most programs try to hand jam our veterans into a job so that they can say they did or so that they can receive a referral fee. This is simply not OK. We have to give our men and women the time to decompress if necessary, take a tactical pause to determine the next best steps, and give them the resources to design, build, and live the lives they want to live.
CP: What are some of the biggest misconceptions that lifelong civilians harbor about veterans?


Kopp: The COMMIT Foundation Corporate Education Program addresses the following misconceptions about veterans: Veterans are highly trained and adaptable leaders while in uniform. Their highly effective leadership skills and take-charge attitude honed while serving may conflict with civilian organization culture and co-workers. Veterans are accustomed to high "operational tempo" and ever-changing environments. In slower-paced work environments, veterans may be perceived as disengaged or disinterested. The nature of military work is dependent on a strong leadership hierarchy. Without a clear line to leadership, veterans may be perceived as disempowered, unproductive and lacking self-confidence. Similarly, veterans are accustomed to highly structured work schedules and expectations. Without set goals, adequate training and a clear mission, veterans may be perceived as frustrated, and overly passionate. That every veteran who has served in combat has Post Traumatic Stress. This misperception results in stereotyping and potentially negative outcomes for veterans not only within their communities, but also in their place of work.
CP: You have an extensive background in fund-raising and development, not only on behalf of nonprofits but also some partisan campaigns. Notable among those was the 2008 presidential bid of the late U.S. Sen. John McCain. What are some of the key differences between fund-raising for partisan efforts and non-political endeavors like COMMIT, which presumably must cast a broader net in growing its support base?
Kopp: Fundraising for any U.S. senator is inherently political, of course, but with Sen. McCain, whom I was honored to know since I was a young girl, and later work for, it was always — always — about putting our country first. In this respect, that work was somewhat akin to my work for The COMMIT Foundation. It is such a privilege to get up each day and work on behalf of the 1% of our nation who has put their life on hold and on the line, to protect our freedoms. As a nonprofit organization, we are non partisan and non-political, as it should be. Our service members and veterans come from diverse backgrounds. Our generous donor base is similarly diverse.
CP: What was it like working with former Gov. Arnold Schwarzenegger?
Kopp: My first real exposure to the fundraising business was with Gov. Schwarzenegger's reelection campaign . He had great vision for the state. He was also very kind and inclusive and went out of his way to make those around him feel comfortable. His warmth was genuine. I was afforded a great many exhilarating and often heady opportunities to learn on the job. A favorite memory of mine involved an event for Gov. Schwarzenegger and First Lady Maria Shriver, and meeting the First Lady's mother, one of the matriarchs of the Kennedy family, Eunice Kennedy Shriver, the sister of the late John F. Kennedy, founder of the Special Olympics.
CP: What brought you to Colorado and what keeps you here?
Kopp: I was living in Alexandria, Virginia, in 2009 and wanted to find my way west again. I love the West and grew up in Idaho, Arizona and spent my college and first working years in California. I was looking at jobs in Colorado when I heard former Lt. Gov. Jane Norton was running for the U.S. Senate. I had never met her but was inspired by her career path and public service. I moved to Denver in October of 2009 to work for her, and she has become a lifelong friend and mentor. After her race I was hired by the late Ambassador Marilyn Ware to run her philanthropic and political giving. Working for Ambassador Ware opened many doors which led me to where I am today. I met my now-husband, state Sen. Mike Kopp. Mike had lost his first wife to cancer, and I met our children on our first outing, eight years ago in November. We dated and were engaged and married in April of 2013. Our family (which continues to grow) and our great community keeps me in Colorado. I am inspired by the leaders in our community who put country first and strive to serve those who serve us. I am the proud wife of a veteran and mother of a son currently serving in the U.S. Army. Go Army. Beat Navy.