Back to all news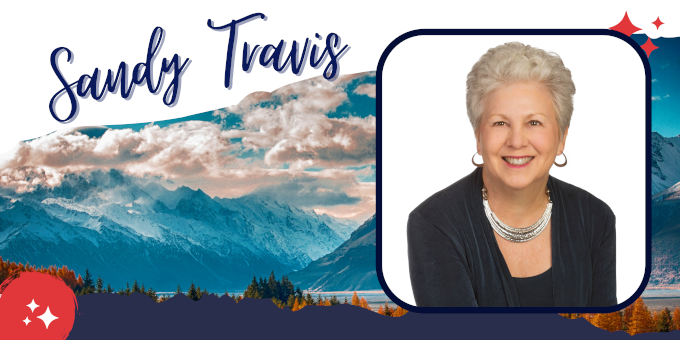 Apr 13, 2022
Sandy Travis: Pivot Extraordinaire
---
The COMMIT Foundation is known for being a gathering point for a richly experienced and diverse community of coaches, mentors, veterans, professionals, and veteran advocates who power our mission through their passion for veteran advancement. We are fortunate to witness the transformative power of this community and the services provided by our Programs Staff and coaching team.
Sandy Travis has worked with COMMIT by coaching and mentoring transitioning military leaders, helping them master and tackle one of life's most challenging pivots. Her ambitions and skills were honed through a series of major life pivots which gave her the incredible insight and perspective she holds today.
"I am at my creative best at the interface of radically different disciplines," Travis said. This statement is evident in her professional journey which ranges from PhD student to Peace Corps Volunteer, world-class consultant, llama farmer, and Executive Coach.
There is a level of decisiveness and strategy present in Travis' life that makes her uniquely qualified to coach veterans. She is able to reflect on her path in real-time and decide whether or not it's serving her goals. When she senses that it is not, she makes a pivot, leveraging what she knows to build a body of work and experience that broadens her impact in her next role. While working toward her PhD in Neurobiology at Yale (following in her father's footsteps) she recognized that the dream was not her own and she needed radical change to shift her back onto her own course. It was at this point Travis became a Peace Corps volunteer in the Congo for three years. She taught biology and chemistry and then switched to public health research when the first Ebola outbreak hit. After earning her second Masters in International Administration, the winds of change began to blow Travis' sails yet again.
Because of her international experience and masters degree, Travis became a consultant with a boutique British firm in DC, serving the World Bank and International Monetary Fund. While this once-in-a-lifetime experience stretched her professional spectrum, it began to fall out of sync with her goals. All the years of travel, while exciting, left her yearning for a lifestyle change. Being a lover of the outdoors, she chose the Pacific Northwest as her next destination, resigned from her position, and established an independent consulting firm. Again, on the outside, this might look like she shifted on a whim. But every move was aligned based on both her goals and the experiences she had while consulting for forest products companies in British Columbia.
Travis' journey eventually brought her to COMMIT. While she had no previous experience with service members or veterans, she had become an expert in quickly learning new cultures. More importantly, Travis offered a lens through which most veterans do not get to see their experience. By reframing the way service members reflect on their professional lives, Travis is able to help them align their goals with their values in a meaningful and mindful way.
Travis explained that the strategic discovery process is what she believes sets COMMIT apart from other veteran support organizations. Between the Pursue Your Purpose platform, suggested reading, and individualized approach, service recipients are addressed as a whole person, perhaps for the first time in a very long time. This, Travis explains, is why COMMIT is special to her and aligns so well with her beliefs.
"You can make radical changes and still land on your feet" said Travis. Her ability to see the transferability of life experiences beyond just skillset, and her creativity in reimagining what her experiences could mean for her next chapter, define the incredible pivot-mastering Travis has done.
Another major pivot Travis had to face came after a routine doctor's appointment when she found out she had an aggressive form of cancer. This was when she established her empowering mindset.
"My first thought was 'I don't know how to beat cancer, but I do know how to do adventure travel from all my years in Africa - what lessons learned can I apply to this new journey?" Travis said. Today, she is a "cancer thriver," a term she prefers to "survivor." She was able to apply positivity in what is normally a very terrifying process, and ended up putting together her own program for thriving. After enduring the journey and beating cancer, Travis wrote Passport to Freedom, her book on overcoming limiting beliefs through cancer treatment.
We are honored that Travis has joined COMMIT's mission. Her contributions can be heard in the countless praises she receives from service recipients she has coached and her impact lives on in all they are empowered to do.