Back to all news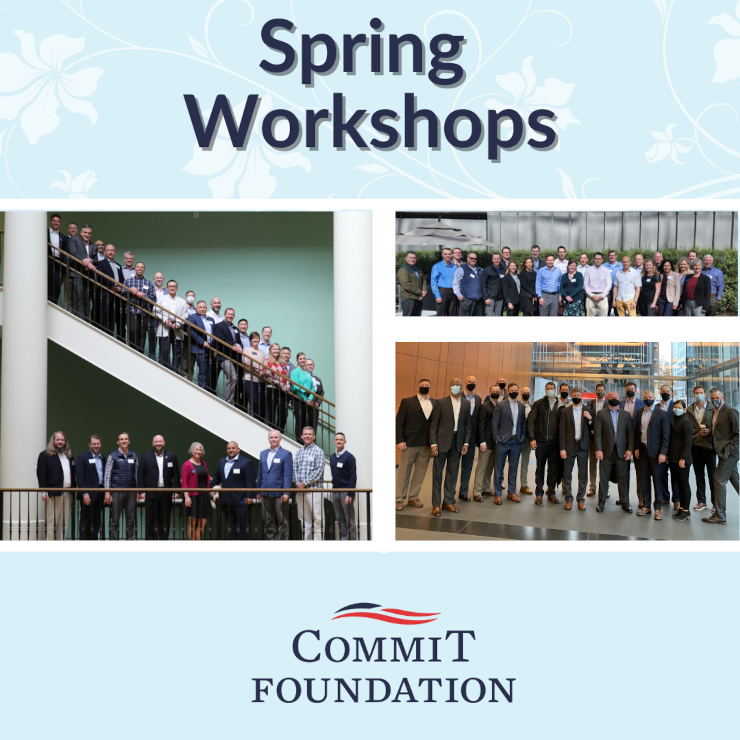 May 17, 2022
Spring Workshops; From Coast to Coast
---
This spring has been one of COMMIT's busiest seasons yet. While taking all possible Covid precautions, we have been able to return to our in-person workshop schedule, ecstatic to meet over 70 of our service recipients and mentors, face-to-face.
In Nashville, our gracious hosts at Bridgestone welcomed 20 transitioning service members to a transformative workshop. Boasting expert mentors and inspiring views of the bustling downtown, the synergy and excitement buzzed throughout the room. When Bridgestone Americas' CEO, Paolo Ferrari visited the group, they leaned in, intently listening to his words of wisdom and advice.
Service recipient, Scott McKay, disclosed some of his ambitions at the workshop.
"My last assignment, I had 800 paratroopers that I was responsible for leading," he said.
But priorities shift as one transitions, "I have a 4 and a 6 year-old and the goal of my transition is to provide stability," McKay explained.
The pressures and anxiety of transition can often chip away at even the most decorated leader's confidence. This is the goal of COMMIT's Transition Mentoring Workshop: solidify the confidence, provide the information, and help them imagine what is possible in this next chapter.
Similar feelings were shared at Booz Allen Hamilton's San Diego, CA office where 14 transitioning service members were hosted for two days of intensive retrospection and life-design exercises. The participants shared their experiences and concerns with the group, eliciting helpful framing from the coaches and facilitators and insight from the mentors in the room. By the second day, the group had grown into a tight-knit cohort who would return to their respective units with optimism and a blueprint for post-service life. COMMIT alumni joined the group to share their advice and perspective, embracing a "those who have gone before" element important to the military community.
The group at COMMIT's Williamsburg, VA workshop buzzed with words like "creating space," "breathing room," and "sacred." Hosted at the beautiful campus of College of William and Mary. The vaulted ceilings in the hall where the service members gathered contrasted beautifully with the intimate huddle of 19 service members and 11 mentors. Everything shared, from harrowing experiences in service, to triumphs in their personal lives, and reservations about the unknown factors of civilian life drew the group closer together. One alumni mentor in attendance shared "this means so much for me to be able to give back and help people avoid some of the heartache I faced in transition." Building this element of community is a treasured part of COMMIT's impact.
In Seattle, COMMIT partnered with local giant, Amazon, to host 17 transitioning service members from across the country. Mentors gathered to share their insights and advice for the group. "We have been so fortunate to have organizations offering the use of their incredible facilities - Booz Allen, Bridgestone, and Amazon to name a few -- none of which would have happened without the connections created through participants and staff," said Tanya Reinhardt, COMMIT's workshop director.
Over the course of four months, COMMIT provided this once-in-a-lifetime experience to 70 service members this spring along with the hundreds of others served virtually through Executive Coaching, Resume Writing, and the Pursue Your Purpose program. With Denver, CO; Menlo Park, CA; Washington D.C., and Charlotte, NC workshops ahead, we are grateful for our supporters who make these incredible experiences possible.

"As we look toward the remaining five workshops I am hoping we can find investors to help mitigate the increasing costs of the workshops so we can continue to create what one veteran described as a 'sacred space' where participants can again explore possibilities and pursue their purposes," Reinhardt said.
To learn more about our supporters or how to support a COMMIT Transition Mentoring Workshop, please contact us.