Back to all news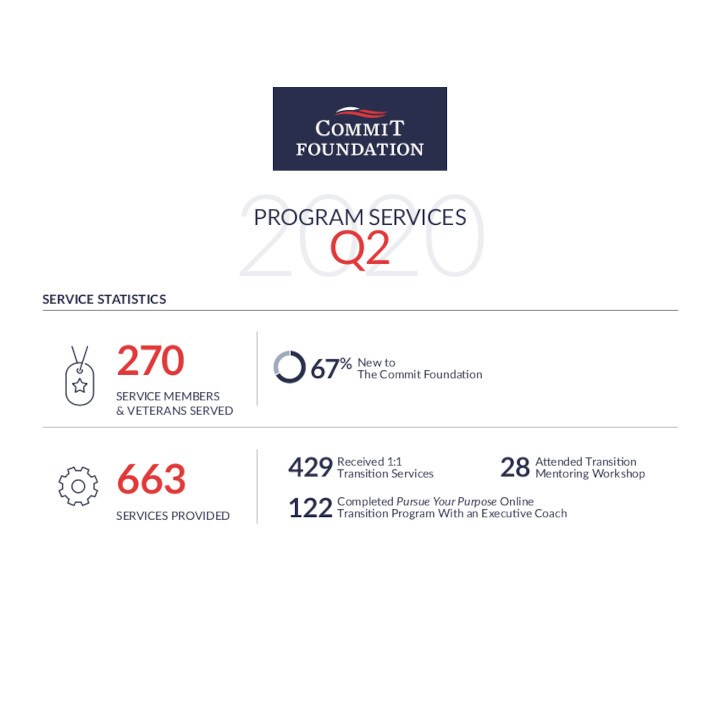 Jul 13, 2020
COMMIT Q2 Report: Make an Impact - Support our Veterans
---
The COMMIT Foundation recognizes that in unprecedented times we all benefit from connection, information, and guidance. 2020 has been COMMIT's busiest year to date. We are dedicated to addressing the challenges our Nation's service members and veterans face as they transition from military into civilian life. We are uniquely positioning COMMIT to serve during COVID-19 and scale our services as the need for transition assistance increases.
A Virtual Reception with USSOCOM Leadership
On Thursday, July 16 at 7:30 p.m. EST / 5:30 p.m. MDT/ 4:30 p.m. PST COMMIT will host a special conversation with Vice Admiral Tim Szymanski and his incredible wife, Marci where they will engage us in an inspiring discussion from the special operations community and share how military service impacts the physical, emotional, and mental health of not only our service members, but their families as well. We will also be joined by the Honorable Jared Polis, Governor of Colorado. Please support COMMIT and join us!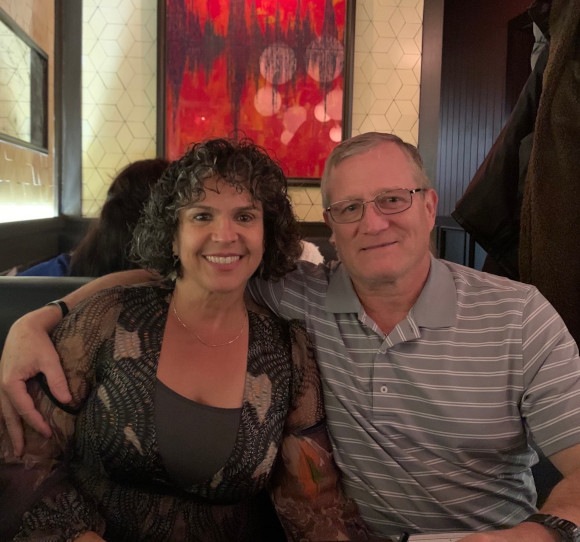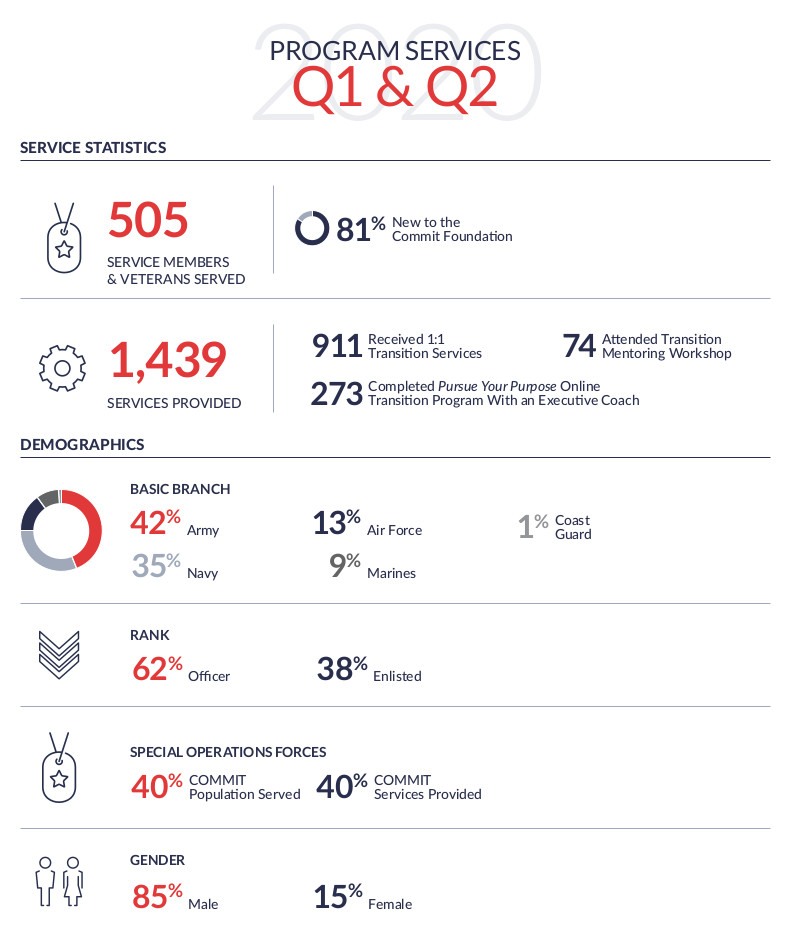 COMMIT Launches Virtual Workshops
In April and May 2020, The COMMIT Foundation hosted two four-day virtual workshops for transitioning service members and veterans. We were blessed to have outstanding COMMIT mentors volunteer their time to share stories and counsel in order to connect with our program participants.
The COMMIT workshops focused on group discussions around transition and provided an opportunity for participants to share their concerns and experiences with other transitioning veterans. Participants gathered online twice after each workshop to share insights as to how their outreach efforts were going and to encourage each other to further develop their narratives and networks.
"Well-being is made up of meaningful work and meaningful relationships," said Lacey Sladky, a COMMIT facilitator and coach during her opening remarks at the April workshop. COMMIT is proud of the incredible work and lasting relationships that our programs make possible.
"These were particularly interesting workshops as they were the first conducted via a virtual setting," said Scott Walgren, Chief Programs Officer for The COMMIT Foundation. "We were worried about how participants would respond to an online platform, but were pleasantly surprised at how effective it was. We definitely see virtual workshops being part of our plans moving forward."
Staff commented that the online platform allowed participants to quickly engage with one another from the comfort of their own homes. Reggie Mills, Director of Veteran Services for COMMIT and a Navy veteran said, "I am truly honored to be part of an organization focused on assisting top-tier service members with their growth in the transition space." He then summed up the event adding, "It's exciting to see the information, imagination, and confidence gaps closing in our Nation's finest."
Shaun McAndrew, a Navy captain and participant in the May workshop stated, "COMMIT has been phenomenal adding an outsider view with genuine, critical, and caring communication." "I've tried other transition programs, and the first thing they ask for is my resume," added McAndrew. "COMMIT filled in the gaps."
Members shared their appreciation for COMMIT's work. "I just wanted to thank you and the whole organization for the opportunity to participate in the workshop," said Josh Salem, an Army colonel retiring in January 2021 and a participant in the May workshop. "It was an amazing experience that definitely helped me construct a solid narrative (finally) and have more confidence asking for help from mentors."
COMMIT Offers Online Seminar to Naval Surface Warfare Operators

The COMMIT Foundation was honored to host an online seminar May 19 for 37 Naval Surface Warfare Operators, Direct Support, and their spouses for a discussion on military transition and how The COMMIT Foundation can be of benefit in that journey. In addition to the information about our high-touch, individualized services, we walked the cohort through exercises and handouts to highlight our unique approach.
Mimi Bock, mentor and board member, and Brian Ferguson, a former SEAL and COMMIT Alum, engaged the group with questions and answers from their impressive professional experiences and provided helpful insights.
Brian shared a document with the participants that included answers to questions frequently asked by transitioning NSW members. Feedback noted that the seminar was "very focused, but open and exploratory as well."
Imagine how much benefit comes from ongoing assistance if COMMIT can make this much impact in a few hours.
COMMIT Hosts Webinar - Hiring During COVID
As COVID presented unique challenges to those in the midst of career transitions, COMMIT responded with its first-ever webinar on hiring on June 4. The webinar brought together talent experts to share their insights on how to interview and transition in the time of COVID. Matt Oberhardt, Partner at Andreessen Horowitz, Renee Whalen, Managing Director of Strategic Accounts for Robert Half, and Erin Scruggs, Senior Director of Talent Acquisitions at LinkedIn, spent an hour with COMMIT's Scott Walgren, Chief of Programs, and shared tips and strategies for how candidates can better understand and navigate the current interviewing and hiring environment.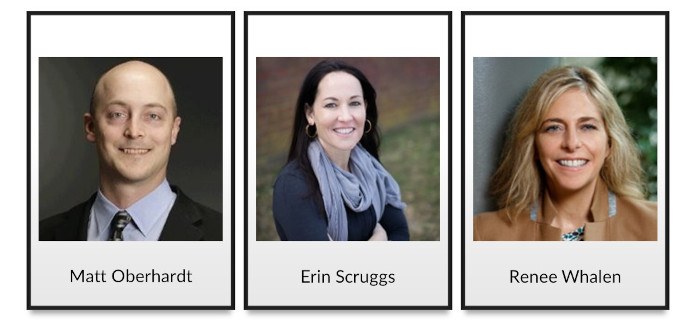 100 veterans transitioning from the military listened to the discussion and posed questions to the panelists. Feedback has been positive on the insight provided. Transitioning service member, Martha Foss, added, "Like everything else that The COMMIT Foundation puts its name on, this event, too, was extremely well planned and executed to perfection. The content was 100% relevant, informative, and timely. I am grateful for the additional knowledge this hiring panel armed me with that I will use on my transition journey. I continue to be both honored and humbled to be a part of The COMMIT Foundation."
Panel advice ranged from recognizing the corporate culture that candidates are seeking and ways to evaluate culture in a remote environment, understanding the prevalence of and personal comfort level for remote work moving forward, as well as how to highlight soft skills to successfully stand out amongst other candidates. The panelists emphasized that hiring hasn't stopped, but rather changed in terms of how candidates are being evaluated and what work may look like moving forward.
Renee Whalen shared, "I recommend being open-minded and flexible to what's available. Bring the confidence you currently have in your military role to the new environment. And, learn to be a video star so you're comfortable being you on camera."
COMMIT looks forward to offering future panels on relevant topics.
Thank you to United Airlines Miles on a Mission
The COMMIT Foundation was chosen by United Airlines to be one of the nonprofits highlighted in their Miles on a Mission program. Through this program United MileagePlus members were able to donate their miles to COMMIT with a limited match from United. As a result 1,500,000 miles were donated to COMMIT for our service members and veterans. COMMIT will use these miles for our veterans to travel to programs and professional development.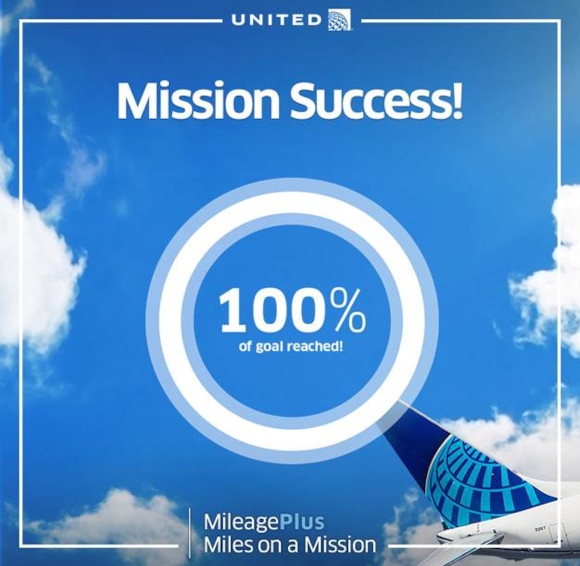 Looking Ahead
Please visit The COMMIT Foundation events page to learn more about our upcoming fall workshops