Back to all news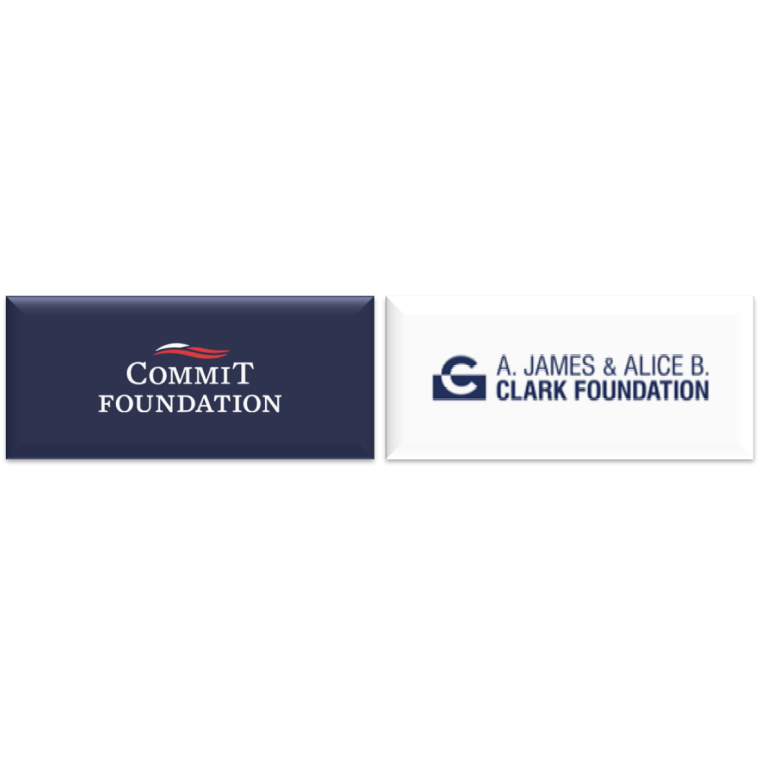 Jan 23, 2020
The COMMIT Foundation is honored to announce its second investment by The A. James & Alice B. Clark Foundation!
---
The A. James & Alice B. Clark Foundation first partnered with COMMIT in 2018 with a two-year grant that focused on achieving additional scale through technology and partnership. With COMMIT's continued success, the Clark Foundation has agreed to a second two-year investment, which enables COMMIT to continue its growth while not diluting the quality of its work. COMMIT is known across the veteran service space for prioritizing quality over quantity in delivering transition services for our Armed Forces.

In 2020, The COMMIT Foundation will:
Provide at least 2,000 programmatic services to more than 1,000 program participants
Focus on women, Special Operations Forces, and those with highly technical talents
Formalize and scale its mentoring and alumni programming
Expand Corporate Education programs to encompass workforce education and retention initiatives
Partner with key sponsors to host 10 to 12 Transition Mentoring Workshops nationally
Leverage Pursue Your Purpose (PYP), COMMIT's digital program platform, to achieve greater scale and impact
Build out its digital library of video resources to increase utilization and value to our participants and partners
Leverage our position as a thought leader, raise awareness and share best practices with other veteran service organizations nationwide to increase our collective impact
"We are grateful to have found such a tremendous partner in the Clark Foundation, who continues to help us achieve our goals of changing the narrative in the veteran space. We have learned so much from our work with the Clark Foundation and it is hard to fathom a better partner."

- Anne Meree Craig, CEO & CO-Founder, The COMMIT Foundation
"We at the Clark Foundation are continually impressed by how Anne Meree Craig and her team have thoughtfully grown their organization while maintaining and expanding COMMIT's high-quality programs. We look forward to our partnership over the next two years and to their continued impact on the lives of the veterans they serve."
- Joe Del Guercio, President & CEO, A. James & Alice B. Clark Foundation
The COMMIT Foundation provides transitioning servicemembers and veterans with high-touch and individualized services to address his or her specific challenges, meeting them where they are in their personal transition journey ensuring a meaningful and purposeful transition both personally and professionally. Through COMMIT's services, those served explore values, skills and life design fundamentals in order to identify individual sources of purpose and meaning. The COMMIT difference is making an impact on the way our Nation's servicemembers transition out of uniform and into our civilian communities.


The A. James and Alice B. Clark Foundation partners with grantees who build practical, immediate and concrete connections between effort and opportunity, and focuses its investments in the following areas: educating engineers to solve society's toughest problems, improving the lives of veterans and their families, and providing members of the DC community the best opportunity to thrive.