Back to all news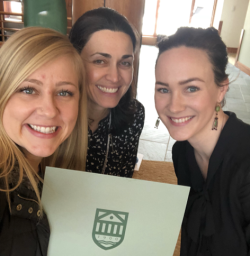 Dec 20, 2019
"A Waterfall Effect" Jill Anderson
---
Facing down separation from the U.S. Air Force, Jill Anderson's feelings of being overwhelmed were in complete conflict to the "you'll be fine; you'll figure it out" mindset others in the Air Force espoused. When you meet Anderson, the first thing you notice is her vivacious and joyous personality and how she took transition head-on. A fellow Tuck School of Business Next Step Alumna, Maggie Ward, introduced her to The COMMIT Foundation.
Anderson took advantage of COMMIT's free, specialized services, and resources, including executive coaching and its selected transition handbook, Designing Your Life. By the time she fully separated from the Air Force in March 2019, she was well on her way to starting her next chapter at PayPal as an Engineering Program Manager. Anderson gives much credit to COMMIT for being a fully supportive, neutral party in her successful transition.
PayPal's values and culture are an excellent match for Anderson. PayPal supports her commitment as an Air Force Reservist, and they've highlighted Anderson in a recent video promoting veteran hiring. Another plus for Anderson is that at PayPal, she has her first female boss ever!
Jill was worried about the financial burden an executive programs COMMIT gave her a scholarship to, Dartmouth's Tucks Next Step Program.
Anderson recommends COMMIT to friends, too. One, in particular, was extremely successful in his military career but had a tough transition, which is more common than most people know. He recently reached out and shared, "thank you for introducing me to COMMIT - I have a job." Another of Anderson's friends attended a COMMIT weekend program.
Anderson knows that COMMIT offers servicemembers guidance and support that goes beyond one person's transition. Anderson describes COMMIT as having a waterfall effect on individuals. "[COMMIT] is the gift that keeps on giving."
Jill Anderson
Engineering Program Manager, PayPal
U.S. Airforce Veteran and Reservist
COMMIT Alumna
Learn more about Anderson and her pursuit of purpose at every stage of her life:

Article from Tuck School of Business at Dartmouth
Thank you for supporting Jill in her transition journey.